Download PDF : E&M 31.2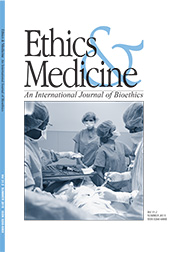 EDITORIAL
Why Doctors Must not Be Complicit in Killing Their Patients
C. Ben Mitchell, PhD
GUEST EDITORIAL
Is the Technological Imperative Imperative?
Jacob Shatzer, MDiv, PhD
GREY MATTERS
Beyond Humanity: Theological and Biotechnological Perspectives on Enhancement in Dialogue
William P. Cheshire, Jr., MD
Theology and Technology: Mapping the Questions
Jacob Shatzer, MDiv, PhD
Autonomy vs. Selflessness at the End of Life
Hannah B. Martin, BA; Daryl F. Sas, PhD
Book Reviews
Renaissance, the Power of the Gospel However Dark the Times
Os Guinness. Downers Grove, IL; IVP Books, 2014
ISBN 978-0-8308-3671-0 (ELECTRONIC: 978-0-8308-9657-4), 187 PAGES, PAPER, $11.99
Reviewed by Robert E. Cranston, MD, MA, FAAN, who is an associate clinical professor (Neurology) at University of Illinois College of Medicine, a hospital ethicist at Carle Foundation Hospital in Urbana-Champaign, and is medical director for medical subspecialties at Carole Clinic in Urbana, Illinois, USA.
Disaster Bioethics: Normative Issues When Nothing Is Normal (Public Health Ethics Analysis, Vol. 2)
Donal P. O'Mathuna, Bert Bordijn, and Mike Clarke (Eds). Dordrecht: Springer, 2013.
ISBN: 978-9400738638, 219 pages, cloth, $99.64.
Reviewed by Sharon A. Falkenheimer, MD (Aerospace Medicine), MPH, MA (Bioethics), who has taught bioethics at the University of Texas Health Sciences Center in San Antonio, TX, Trinity College in Trinity International University in Deerfield, IL, and in 11 nations. She has served in the US Air Force for over 26 years, where her responsibilities included training for and medical planning for disasters as well as responding to disasters. She is an Academician of Association, and an Associate Fellow at the center for Bioethics and Human Dignity at Trinity International University, Deerfeld, IL, USA.
Disconnected: Youth, New Media, and the Ethics Gap
Carrie James. Cambridge: MIT Press, 2014.
ISBN : 978-0-262-02806-6, PAGES, PAPER, $24.96.
Reviewed by Susan M. Haack, MD, MA (Bioethics), MDiv, FACOG, recently retired from consultative gynecology at Hess Memorial Hospital and Mile Bluff Medical Center in Mauston, Wisconsin, USA.