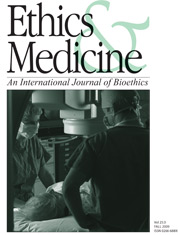 Download PDF : E&M 25.3
EDITORIAL
On Human Bioenhancements
C. Ben Mitchell, PhD
GUEST COMMENTARY
Think It's Greed? It Might Be PDMD: Public Service Announcement
Marc E. Keller and Bert M. Bieler, MD
GREY MATTERS
Facebook and Fusiform Gyrus
William P. Cheshire, Jr., MD
CLINICAL ETHICS DILEMMAS
Continuing "Futile" Support at Relative's Insistence
Robert D. Orr, MD, CM
Tracking Chromosomes, Castrating Dwarves: Uninformed Consent and Eugenic Research
Paul A. Lombardo, PhD, JD
The Future of the Human Species
Brent Waters, DPhil
"Give Me Children or I'll Die!" Is it Time to Consider the Uterus as a Non-vital Organ Transplant?
Gregory W. Rutecki, MD
Book Reviews
Caring for Those in Crisis: Facing Ethical Dilemmas with Patients and Families
Kenneth P. Mottram. Grand Rapids, MI: Brazos Press, 2007.
ISBN: 978-1-58743-191-3; 160 PAGES, PAPERER, $17.99
Reviewed by Patrick T. Smith, MDiv, MA (philosophy), PhD (candidate in philosophy), who is an Assistant Professor of Theology and Philosophy at Gordon-Conwell Theological Seminary, South Hamilton, Massachusetts. He also serves as the Director of the Ethics Department at Angela Hospice Care Center in Livonia, Michigan, USA
Easeful Death: Is There a Case for Assisted Dying?
Mary Warnock & Elisabeth MacDonald. Oxford University Press: Oxford, UK, 2008.
ISBN978-0-19-953990-1; 155 PAGES, hardcover, $26.
Death and Medical Power: An Ethical Analysis of Dutch Euthanasia Practice
Henk ten Have & Jos Welie. Open University Press: Berkshire, England, 2005.
ISBN: 0 335 21755 9 (pb) 0 335 21756 7 (hb); 141 pages, paper, $113 (US)
Euthanasia and the Law in Europe
John Griffiths, Heleen Weyers, & Maurice Adams. Hart Publishing: Oxford, UK, 2008
ISBN978-1-84113-700-1; 595 pages, hardcover, £60 (UK)

The three books above were reviewed by the following reviewer:
Reviewed by Robert D. Orr, MD, CM, who is Professor of Bioethics at Loma Linda University and Director of Clinical Ethics at Loma Linda University Medical Center, Loma Linda, California. He is also Professor of Bioethics at the Graduate College, Union University in Schenectady, New York, Consultant in Clinical Ethics, Center for Bioethics and Human Dignity, and Professor of Bioethics at Trinity International University, Deerfield, Illinois, USA.
Embracing Our Mortality: Hard Choices in an Age of Medical Miracles
Lawrence J. Schneiderman, MD. New York: Oxford University Press, 2008.
ISBN978-0195339451; 219 PAGES, HARDCOVER, $21.95.
Reviewed by Robert E. Cranston, MD, MA, FAAN, who is Medical Director for Medical Subspecialties at Carle Clinic Association in Urbana, Illinois, and a clinical associate professor of medicine (Neurology) at the University of Illinois College of Medicine in Urbana-Champaign, Illinois. He is a fellow of CBHD and also serves on the CMDA Bioethics Committee, USA.
Human Stem Cells: Source of Hope and of Controversy
Henk Jochemsen, Elisa Garcia, Asher Meir and Ron Harris. Chicago and London: The Bioethics Press, 2005.
ISBN0-9711599-4-7; 162 PAGES, PAPER, $30.00.
Reviewed by Agneta Sutton, PhD, who is a Senior Lecturer at Chichester University and a Visiting Lecturer at Heythrop College at the University of London, both in the UK.
Babies by Design: The Ethics of Genetic Choice
Ronald M. Green. New Haven and London: Yale University Press, 2007.
ISBN978-0-300-12546-7; 279 PAGES, HARDCOVER, $26.00

ISBN9780300143089; 279 PAGES, PAPER $17.00
Reviewed by Donna Yarri, PhD (Religious Studies), who is an Associate Professor of Theology at Alvernia University in Reading, Pennsylvania, USA.