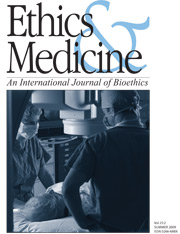 Download PDF : E&M 25.2
GUEST COMMENTARY
Pulling the Sheet Back Down: A Response to Battin on the Practice of Terminal Sedation
Patrick T. Smith, MDiv. MA, PhD(cand.), and James S. Boal, MD
GREY MATTERS
Accelerated Thought in the Fast Lane
William P. Cheshire, Jr., MD
CLINICAL ETHICS DILEMMAS
On the Permissibility of a DNR Order for the Patient with Dismal Prognosis
Ryan R. Nash, MD
Revitalizing Medicine: Empowering Natality vs. Fearing Mortality
Brent Waters, DPhil
Boonin's Defense of the Sentience Criterion: A Critique
Matthew Flannagan, PhD
A Virtue-Ethical Approach towards applying Principilism
Jeffrey W. Bulger, PhD
Book Reviews
The New Medicine: Life and Death After Hippocrates
Nigel M. de S. Cameron. Chicago and London: The Bioethics Press, 2001
ISBN 0-9711599-0-4; 187 pages, paper $21.95
Reviewed by Agnetta Sutton, PhD, who is a Senior Lecturer at Chichester University and a Visiting Lecturer at Heythrop College in the University of London, both in the UK.
End-of-Life Decision Making: A Cross-National Study
Robert H. Blank and Janna C. Merrick, Editors. Cambridge, MA: MIT Press, 2005
ISBN 0-262-02574-4; 266 Pages: Hardcover, $32.00
Reviewed by Claretta Yvonne Dupree, RN, PhD, who is an assistant professor at the Milwaukee School of Engineering, Department of Nursing. She also serves as an ethicist on the Data Safety Monitoring Board of the National Institue of Allergy and infectious Diseases, as a Director-at-Large for the American Society of Bioethics and Humanities and as a Fellow of the Center for Bioethics end Human Dignity. She is a Captain in the United States Navy Nurse Corps Retired Reserves.