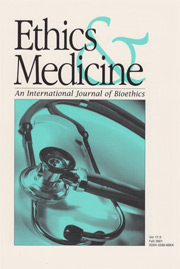 Download PDF : E&M 17.3
Editorial
Old MacDonald Had an Embryo Pharm, E, I, E, I, Oh?
C. Ben Mitchell, Ph. D.
Guest Commentary
To the Editor
Polygamy and Autonomy
David B. Fletcher
A Theologian's Brief: On the Place of the Human Embryo Within the Christian Tradition and the Theological Principles for Evaluating Its Moral Status
David Jones, et. al.
Taking Abortion Seriously: A Philosophical Critique of the New Anti-Abortion Rhetorical Shift
Francis J. Beckwith
Prenatal DNR Orders and the Baby Doe Regulations: Case Review and Analysis
Robert E. Cranston
A Thirty-Year Perspective on Personhood: How Has the Debate Changed?
Dennis Sullivan
Book Reviews
Without Moral Limits: Women, Reproduction, and Medical TechnologyDebra Evans J. Alan Branch
Regulation of the Healthcare ProfessionsTimothy S. Jost, Editor Jack T. Hanford
Body and Soul: Human Nature and the Crisis of EthicsJ.P. Moreland and Scott B. Rae Michael W. Austin
The Invention of Autonomy: A History of Modern Moral PhilosophyJ. B. Schneewind David B. Fletcher