Download PDF : E&M 36:1 
EDITORIAL
Medicine: Contract or Covenant?
C. Ben Mitchell, PhD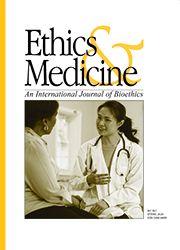 GUEST COMMENTARY
The Dignity of Human Life: Sketching Out an "Equal Worth" Approach
Helen Watt, PhD

POLICY ANALYSIS
"Complex Family Planning"and the Assault on Conscience
Patrick Marmion, MD, MPH, FACPM
GREY MATTERS
Cerebral Organoids and the Threshold of Consciousness
William P. Cheshire, Jr., MD
CLINICAL ETHICS DILEMMA
Daring to Deploy a DNA Directive
Robert D. Orr, MD, CM; Ferdinand D. Yates Jr., MD, MA (Bioethics)
The Pain Principle: An Ethical Approach to End-of-Life Decisions
Carlo V. Bellieni, MD

Clinical Science after Flexner's 1910 Report on Medical Education: A Research Ethos Inhabited by Racial Prejudice, Colonial Attitudes, and Eugenic Theory
Gregory W. Rutecki, MD
BOOK REVIEWS
Cyborg Mind: What Brain-Computer and Mind-Cyberspace Interfaces mean for Cyberneuroethics
Calum MacKellar, ed. New York and Oxford: Berghahn Books, 2019.
ISBN  978-1789200140, 249 PAGES, HARDCOVER.  $134.59
Reviewed by Agnetta Sutton, PhD, who is a bioethicist and Associate Lecturer at Maryvale Institute in Birmingham, UK. She received her PhD from King's College in London, UK, and is widely published.

Embodied Hope: A Theological Meditation on Pain and Suffering
Kelly M. Kapic. Downers Grove, IL: Intervarsity Academic, 2017.
ISBN  978-0830851799, 197 PAGES, PAPERBACK.  $15.00
Reviewed by Jacob Shatzer, MDiv, PhD, who is assistant professor of theological studies and associate dean in the School of Theology & Missions at Union University in Jackson, TN.