Download PDF : E&M 35:1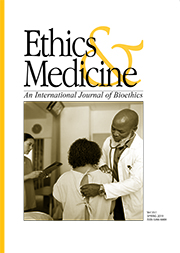 EDITORIAL
Sound and Fury
C. Ben Mitchell, PhD
GREY MATTERS
Æquanimitas Perfecta
William P. Cheshire, Jr., MD
CLINICAL ETHICS DILEMMA
A Pharmacist's Dilemma
Jessica A. Ward; Douglas C. Anderson, PharmD; Dennis M. Sullivan, MD, MA(Ethics);  Ferdinand D. Yates., MD, MA (Bioethics)
The Case for Marijuana Prohibition
Timothy Hsiao, MA
An Exploration of How Ethics Informs Health Care Practice
Michael Concannon, PhD; Warren Gillibrand, PhD; Pat Jones, MS
Will Shorter Informed Consent forms with Visual Aids Improve Understanding of the Document in Adult and Elderly Populations of Clinical Trials?
Agata Bloswick, MSC; Dr. Hab. Agnieszka Skowron
The Current State of Medical Error in South Korea
James Yeongiun Park, MS
BOOK REVIEWS
Free Will : A Philosophical Reappraisal
2nd ed. Nicholas Rescher, New Brunswick, NJ and London; Transaction Publishing 2015.
ISBN  978-1-4128-5593-8, 207 PAGES, PAPER.  $45.95
Reviewed by Donna Yarri, PhD., who is Professor of Theology at Alvernia University in Reading, PA.
Marriage, Divorce, and Remarriage : Critical Questions and Answers
Jim Newheiser, Phillipsburg, NJ: P & R Publishing, 2017.
ISBN  978-1-62995-316-8. 310 PAGES, PAPER.  $16.99
Reviewed by Michael G. Munoz, D.Bioethics, MA(Bioethics), MAR, MEd, who worked in fire fighting for over 30 years, is adjunct faculty at Spokane Community College, and serves on the Disaster Clinical Advisory Committee, Spokane, WA.
Making Disciples Across Cultures : Missional Principles for a Diverse World
Charles A. Davis, Downers Grove, IL: InterVarsity Press, 2015.
ISBN  978-0830836901, 236 pages, paper. $17.96
Reviewed by Sharon A. Falkenheimer, MD, MPH, MA (Bioethics), PhD, who is a Professor of Bioethics and member of the Center for Bioethics and Human Dignity at Trinity International University in Deerfield, IL.