Download PDF : E&M 33:1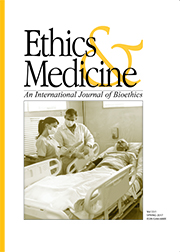 EDITORIAL
Dignity's Danger
Jacob Schatzer, PhD
GREY MATTERS
Loopthink: A Limitation of Medical Artificial Intelligence
William P. Cheshire, Jr., MD
Double Effect Reasoning : Why We Need It
Helen Watt, PhD
Autonomy in Applied Medical Ethics
Joseph Freer, MBBS, BSc, DTMH, CiLT
The Relationship of Gametes to Those who Procreate and Its Impact on Artificially Generated Gamete Technologies
Michal Pruski, BSc (Hons), AFHEA
Embracing PVS 2.0 (The "Permanent? Vegetative? State"): Medical Research Beckons Ethicists Considering the Issue of ANH Withdrawal to Adopt a More Challenging Situational Narrative
Erik M. Clary, PhD
Are Parents Liable for Their Babies' Prenatally Acquired Injuries?
Carlo V. Bellieni, MD; Alberto M. Gambino, PhD
BOOK REVIEWS
Reading Karl Barth, Interrupting Moral Technique, Transforming Biomedical Ethics
Ashley John Moyse. New York: Palgrave Macmillan, 2015.
ISBN  978-1-137-53690-7.   263 PAGES, CLOTH.  $100.00
Reviewed by Jacob Schatzer, PhD, who is assistant professor of biblical and theological studies at Palm Beach Atlantic University in West Palm Beach, Florida, USA.
Potentiality : Metaphysical and Bioethical Dimensions
John P. Lizza, Editor. Baltimore: Johns Hopkins University Press, 2014.
ISBN  978-1421411743, 288 PAGES, PAPER.  $49.95
Reviewed by Susan M. Haack, MD, MA (Bioethics), MDiv, FACOG, recently retired from consultative gynecology at Hess Memorial Hospital and Mile Bluff Medical Center in Mauston, Wisconsin, USA.
Redeeming Sex : Naked Conversations about Sexuality and Spirituality
Debra Hirsch. Downers Grove, IL: InterVarsity Press, 2015
ISBN  978-0-8308-3639-0, 224 PAGES, PAPER.  $17.00
Reviewed by Michael G. Munoz, D.Bioethics, MA(Bioethics), MAR, MEd, who worked in fire fighting for over 30 years, is adjunct faculty at Grand Canyon University in Phoenix, AZ, and served on the Ethics committee at Phoenix Children's Hospital before relocating to Spokane, WA, USA.
The Caduceus and the Swastika : A Novel
Steven M. Hacker, Charleston, SC. Nano Press, LLC, 2016.
ISBN  13: 9780692623221, 417 PAGES, PAPER.  $15.99
Reviewed by Robert E. Cranston, MD< MA, FAAN, who is an associate clinical professor (Neorology) at University of Illinois college of Medicine, a hospital ethicist at Carle Foundation Hospital in Urbana-Champaign, and medical director for talent development and learning at Carle Clinic in Urbana, Illinois, USA.