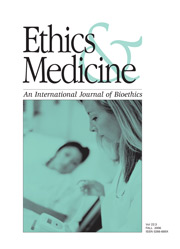 Download PDF : E&M 22.3
Editorial
Human Egg "Donation"
C. Ben Mitchell, Ph.D.
Grey Matters
When Eloquence is Inarticulate
William P. Cheshire, Jr., M.D.
Clinical Ethics Dilemmas
Limitation of Treatment Decisions for Unwanted Neonate
Susan Haack, M.D., M.A. (Bioethics), F.A.C.O.G.
Are Christian Voices Needed in Public Bioethics Debates?:
Care for Persons with Disabilities as a Test Case
Jay Hollman, M.D. and John Kilner, Ph.D.
Must Physicians Always Act in Their Patients' Best Interests?
A. A. Howsepian, M.D., Ph.D.
Newborn Screening: Toward a Just System
Sister Renee Mirkes, O.S.F., Ph.D.
Women, Physicians, and Breastfeeding Advice: A Regional Analysis
J. Stolzer, Ph.D. and Syed Afzal Hossain, Ph.D.
Book Review
The Social Lives of Medicine
By Susan Reynolds Whyte, Sjaak Van der Geest, and Anita Hardon, 200 pages, $21.00, paperback
ISBN 0-521-80469-8, Cambridge, UK: Cambridge University Press, 2002
Reviewed by Susan M. Haack, M.D., M.A. (Bioethics), F.A.C.O.G.